Trail Day
Repairing Trails at Rocky Knob Park
August 15
Trail day has been a grand Watauga tradition, focused on community building and public service. It is one of the first times that the freshman class gathers as a whole, and a good opportunity for meeting new friends and forging strong bonds. Freshmen also have the opportunity to meet older Wataugans, knitting the whole community tighter together. This year the repairing of much used hiking trails took place at Rocky Knob, although in the past the Appalachian Trail has been the subject of Wataugans' attention and care.
A day of hard physical labor is always followed with laughter, smiles and lots of cold water. This traditions lets younger Wataugans know they are part of something bigger than themselves, and brings them into the legacy that they will in turn hand down to younger generations of students.
Wataugans "Havana" Good Time!
Faculty-led Study Abroad in Cuba
June 8th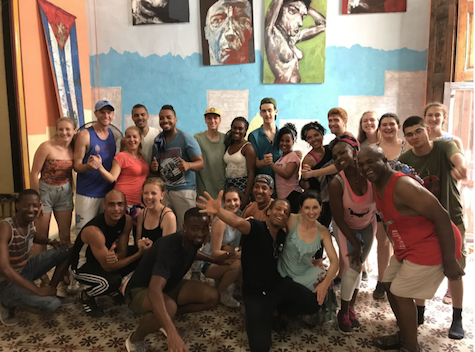 Watauga Professor Joe Gonzalez leads a study abroad trip to Cuba each summer. The class this previous year studied the cultural and historical significance of Cuban food and dance. Students stayed in Havana and took a day trip to Viñales, a small farming village. Small groups of students stayed with host families, which allowed them to experience Cuban life intimately and on a personal level. This trip
profoundly impacts the intercultural understanding of both students and the host families they stay with. The class prior to the trip is a crash course on Cuban history, preparing students to be aware, engaged, and respectful of the people and culture they will be encountering. This study abroad opportunity offers students a rare opportunity to travel to a deeply misunderstood and culturally rich country. Students have to
opportunity to visit a tobacco farm and a rum museum, as well as a Santeria neighborhood and various other cultural icons. Dr. Gonzalez is planning another trip to Cuba in the coming June.
Roan Mountain Camping Trip
A Yearly Tradition Brought Back to Reality!
October 5th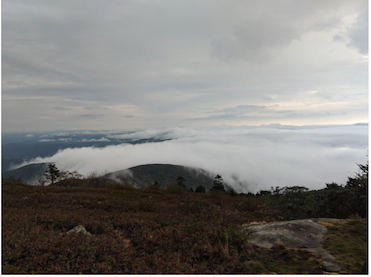 On a damp, frigid October day, eight Watuagans ventured to Roan Mountain Tennessee to participate in the yearly backpacking trip. This year's trip was actually the first one in two years due to the major hurricanes of 2018. And while the initial date of this camping trip was also moved due to thunderstorms, nothing was going to stop them from climbing this mountain of October 5th. Campers met at the base of the trail in conditions that can only be compared to being inside a cloud. Many of them were new to backpacking and did not know exactly what to expect from this hike.
The trek to the top was slow-moving and cloudy. Stories were shared of past camping experiences as they hiked the three miles to the campsite. Eventually though, the campsite was reached just before sundown. It was a small clearing atop Grassy Ridge that had just enough space to house the three tents. The constant mist that layered over the camp made firestarting a specifically tough struggle, even with some Wataugans having taken Patience Perry's survival class! But finally a fire was started and campers were able to warm their freezing toes. Marshmallows were roasted, stories were told, and eventually everyone crashed from exhaustion back into their tents.
When morning broke, there were shimmerings of light on the tents. Campers arose from their hibernation to find that the storm finally cleared! The view from the top was nothing short of fantastic (it also helped that all we saw was fog for 24 hours). Everyone was eager to take in the view for as long as possible, since there was another cloud rolling in soon. But alas, the clouds returned and everyone began to pack up camp and head down. The hike back was time for a lot of introspective thinking and respect for the outdoor experience that they just lived through. But when the group finally made it back to the base of the mountain, everyone was determined to get back to civilization as soon as possible! Overall the camping trip was another great addition to the tradition that will continue to be celebrated for years to come.
Friendsgiving
Feast, Fall, Fun!
November 24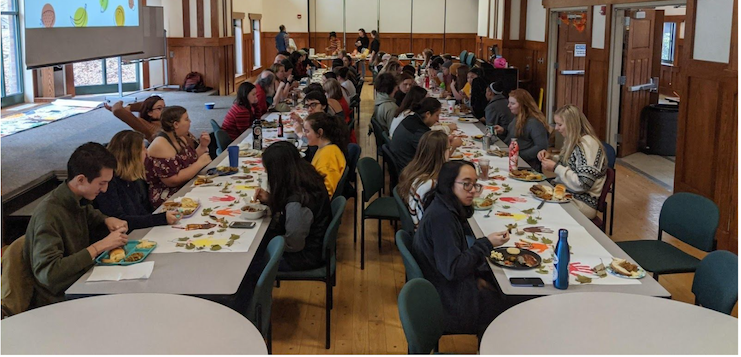 An annual Watauga tradition, the Wataugan Friendsgiving celebrates food and friendship at this potluck-style feast. All Watauga Residential students are invited to come together, make their favorite dish, and enjoy time to relax before Thanksgiving Break and final exam week. This is an opportunity for students of different ages to get to know one another while creating new friendships, and for old friends alike to reconnect.
In accordance with Watauga's commitment to sustainability, everyone who attends is encouraged to bring their own reusable cookware and utensils. Our initiatives in creating as little waste as possible including reducing the amount of single-use plates and utensils, saving or donating leftovers, and composting appropriate items.
The Four Houses of Watauga
Introducing a New House System - October 25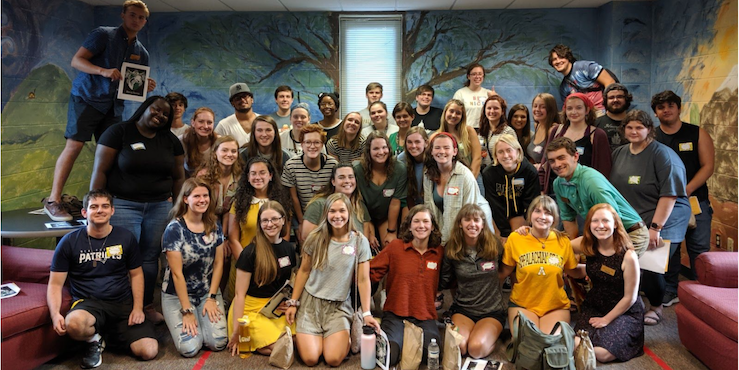 At the start of the 2018 academic year, Watauga mentors (the current junior class) decided to implement a House system for all of Watauga. This means that Watauga would be split into four Houses- Webb, Frantz, Force, and Stines, and would do events and activities with their house. The initiative was started to create a more inclusive community that would foster friendly competition, and a holistic family atmosphere.
This year the current sophomore class and the new mentors decided to expand on that idea and change mentoring to fit the needs of the Houses. Instead of upperclassmen Wataugans having individual mentees, and vice versa, the entire house has a mentor/mentee relationship. This was enacted to go back to the roots of Watauga's family experience.
Building Up Watauga!
Getting into the homecoming spirit!
October 18th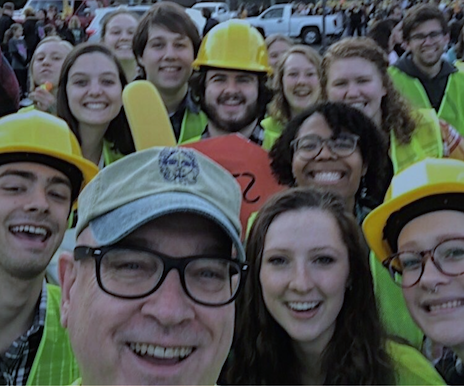 For the past three years Watauga has participated in the Homecoming Parade that happens the Friday of the Homecoming game. The parade route runs down King Street and happens before the festival Apptoberfest. The student that led the first two years is Hannah Bennett, current junior.
Hannah thinks, "most students got involved to show school spirit, not exactly Appalachian spirit, but Watauga spirit. The Homecoming Parade is a great way to interact with other students and local residents in a capacity we normally do not have the opportunity to."
The theme for this year was Build Yosef Up, a play on all of the construction being down on campus. The Homecoming Committee this year was led by sophomore mentor Mary Anders (Manders) Giavedoni. Wataugans wore hard hats, flannels, and vests. A seamless combination of the theme and Wataugan ambience!
Manders said the reason she led the Committee this year is because, "someone needed to be involved, and I asked Clark and started getting student leaders together, and made an interdisciplinary and inter-grade Council to plan our involvement this year."
It is important to Wataugans, not only in their academics, but also in their extracurriculars, to have interdisciplinary perspectives. Wataugans are excited for the 2020 parade! The current junior class will have the opportunity to participate in the parade all four years of their college experience, and are excited to see how Watauga has evolved throughout that time.
Fall Ball
October 25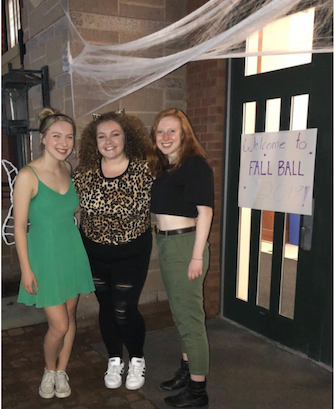 Every year students plan an annual Fall Ball dance. As the school year closes in on Halloween, students need a festive break from long days and nights studying. This year students came in costumes and danced the night away while watching scary movies in the Great Hall!
Student Committee member Wyatt Pitsaros had this to say about organizing Fall Ball: "This year's Watauga Fall Ball was organized by House Webb. It was a challenging endeavor that couldn't have been done without help from my junior mentor, Eveland Davis, and the wonderful group of sophomore mentors we have this year. The freshman turnout was one of the best in years and they kept the party really dynamic. I can't wait to see what the rising class puts together next year!"
Fall Ball is widely regarded as one of the best Wataugan events of the year, and it is made possible through alumni donations to Watauga Residential College. Thanks to our illustrious alumni, the ghosts and ghouls from W.R.C. can Monster Mash the night away.
Habitat For Humanity Build Day
November 16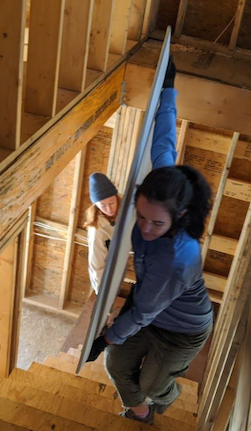 On a chilly Saturday morning, six Wataugans joined forces with the great people at Habitat for Humanity to work on one of their houses in the Greenwood neighborhood. As the third and final volunteer event of the semester, we thought we would go out with a bang and have our longest service event yet. Wataugans arrived at 9:00 am and began work by
clearing debris and loading it to be taken away. Since this event was happening on the Leigh Lane day of service, there were students from the ACT office working on another house across the street. It was fantastic to see so many students working together to do a day of good for the community.
Our main task of the day was taking sheets of drywall off of a pallet that was shipped in and moving them into their respective rooms in the house. Many of us had not moved drywall before, and quickly found how heavy it was after moving dozens of sheets! After hours of squeezing into rooms and maneuvering the sheets in many ways, we eventually completed the job. Everyone was covered in drywall dust and looked exhausted, but were all smiling. It was so rewarding to volunteer to help those in need, especially when it brought so many great Wataugans together to do it!
Watauga Scholarship Grants Student's Success
October 26
The Watauga scholarship was created by two current juniors A.K Klinck and Katherine Webb, with the goal of awarding the scholarship to a current Watauga freshman every year. The scholarship is based on need and merit, and therefore is awarded to one of Watauga's top students. The first recipient of the scholarship was Jordan McKay! Jordan is a sophomore psychology major, and head of our weekly Craft Night Committee. She actively works to make Watauga an inclusive environment for all students and faculty, through her leadership in the craft nights and the classroom. She now has an active role in the fundraising of the Watauga scholarship process, to make sure other students have the same encouragement! Donating to the Watauga Scholarship ensures a students success not only at Appalachian, but also in our college.
Volunteering in the Community
Lending a helping hand at Hospitality House
October 5th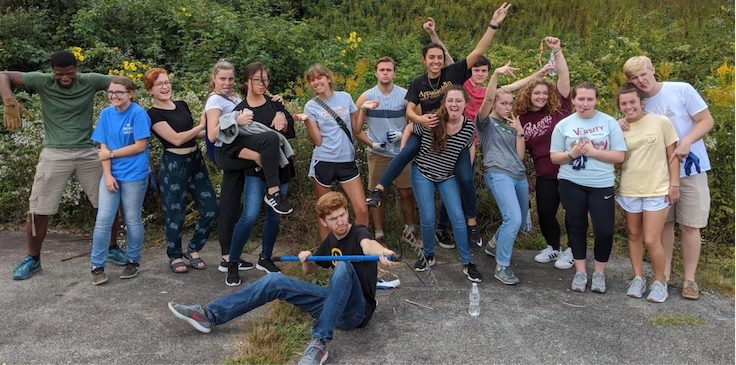 The first of our three volunteer events of the semester kicked off today! Wataugans travelled to Hospitality House, a safe space for an underserved population of Boone that strives to help build a prosperous community for all. Hospitality house has been serving the
Boone community for many years, and it is When we arrived we were split into two groups: one in the kitchen preparing lunch, the other clearing debris along their trail system. The lunch group worked hard to make a fantastic meal with the donated goods from the house, and the trail team spent a lot of energy filling a dumpster with tons of branches and trash from the trails. Both teams worked hard to make this place a welcoming and valuable community asset. At the end of the day, both groups came together and cleaned up the perimeter of the facility and helped prepare a luncheon for the Hunger and Health Coalition. The experience brought so many great people together to do a day of service and was met by great appreciation from Hospitality House. We hope to make this a regularly scheduled event for the future of Watauga's involvement in the community.
Capstone Trip to Virginia Tech
October 26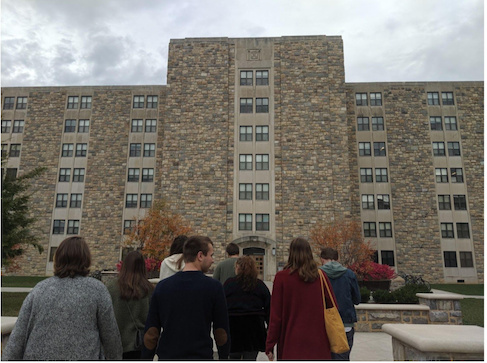 Dr. Maddux's capstone in Experiential and Integrative Learning has discussed residential colleges across the United States, culminating the experience by visiting Virginia Tech to tour their residential college facilities. The students talked with both the faculty overseeing and met with students involved in a variety of different residential colleges on Virginia Tech's campus. In a meeting with Dr. Frank Shushok, students discussed the workings of both Watauga residential college, as well as the various programs Dr. Shushok has started at Virginia Tech. During this meeting, students such as Sierra Cullars and Emily Thomas were especially intrigued by how Dr. Shushok approached his model, as his method is to always go forward with intention in mind. The students were then able to tour Virginia Tech's campus, comparing and contrasting it and its' RC buildings with those of our own. Unlike Appalachian, which has only WRC, Virginia Tech houses several different RCs, two of which share a building. The students were also able to sit in on a tea with one of the residential colleges, held in the on-campus apartment of one of their live-in faculty advisors, which in some ways resembled the lunches held on Tuesdays and Thursdays by WRC, but happened less frequently, as well as have a social with students in another RC at the conclusion of the visit. These experiences gave the students ideas as to ways to improve the WRC experience, as well as giving the students an idea of things that they would not like implemented into their experience. Virginia Tech has the financial support necessary for their continued growth, as the students saw as they toured new facilities and heard the student's stories, which is one thing that WRC lacks in its attempts towards expansion and a greater RC experience for everyone involved.