Mia Bocko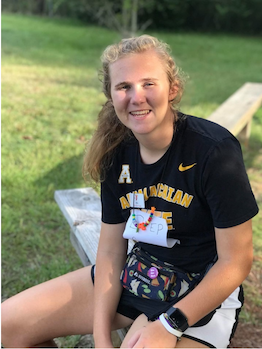 Degree(s): BA in Political Science; BA in Spanish and Hispanic Studies with a minor in Philosophy - College of Arts and Sciences
Email: bockoas@appstate.edu
Ask Mia about:
Hall Council
College Democrats
Academic Excellence Scholarship
Mia decided to come Appalachian State after attending Open House where she was blown away by the energy and enthusiasm of everyone she met. Since she has been on campus, Mia still enjoys the family atmosphere that Appalachian State and Watauga Residential College provides. Mia says that the Watauga College gave her an incredible set of new friends, as well as leadership opportunities and experiences that have strengthened her professional skill set. Serving as the social justice representative of the LLC Hall Council, Mia works hard to ensure that her fellow students feel the same comfort she experienced when coming to Appalachian State. When she is not studying or attending club meetings, Mia enjoys playing volleyball, hiking, and watching movies with friends.
Allie Barker
Degree(s): BSBA in Business Management and minor in Non-Profits - Walker College of Business
Email: barkerae1@appstate.edu
Allie is from Roxboro, North Carolina and decided to come to Appalachian State because she loved the environment and the kind, accepting, and helpful attitude that everyone holds at Appalachian. In her free time, Allie loves to hike, explore nature, read, and shop. Allie went to a small high school, so joining Watauga made her feel at home with a small, intimate community. Allie's favorite part about the Watauga classes is "how you not only learn from your professors, but also you get to learn from other students and share your own experiences through a discussion-based class." Her experience in Watauga has pushed her to explore her interests and inspired her to continue learning outside of the classroom.
Cady Haller
Degree(s): BS in Special Education and a minor in Spanish - Reich College of Education
Email: hallerca@appstate.edu
Ask Cady about:
The Appalachian State Hillel
The Watauga County Community Band
Out of State student experience

Study Abroad opportunities
Cady Haller is a freshman Wataugan from Charleston, SC. After graduation, she hopes to join the Peace Corps and later start a nonprofit that works with children who have learning disabilities all over the world. Allie's favorite past time activities in Boone include hiking with friends, driving on the Blue Ridge Parkway, Pop-Up Boone, football games, playing trumpet in the Watauga County Community Band, and the Appalachian State Hillel. Cady chose Appalachian State because she fell in love with the mountains during her summer camp adventures as a child. Since she has moved to Boone, she credits the study abroad opportunities, small class sizes, and personal one on one connection with professors for her success. Watauga has provided Cady with close connections to her fellow Wataugans peers, professors, and the entire Watauga community.
Hallie McCagg
Degree(s): BM in Choral Music Education - Hayes School of Music
Email: mccagghe@appstate.edu
Ask Hallie about:
Hallie McCagg is a freshman from Charlotte, NC. She chose to come to App State because of the warm and accepting environment on campus as well as the excellent reputation of the Hayes School of Music. She is currently majoring in Choral Music Education, and hopes to eventually work towards a PhD to teach collegiate level music. Hallie has been singing in choirs for almost 12 years now, and playing the piano for about 7 years. She also enjoys spending quality time with her loved ones by going to the mall, staying in to watch a movie, or taking a spontaneous road trip. Her favorite aspect of Watauga is how easily she has made a lot of friends because of the emphasis on community. She says that "everyone seems really sweet and eager to help out, which I feel like you can't find that much of anymore. The Watauga Residential College is a great program that will challenge you and keep you engaged, but it will also lift you up and help you grow as a student and a person!"
Preston Hillard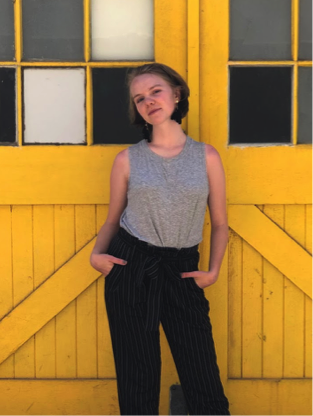 Degree(s): BS in Mass Communication; BA in General Theatre - College of Fine and Applied Arts
Email: hilliardpp@appstate.edu
Ask Preston about:
Preston is a freshman Wataugan from Asheville, NC. In her free time, she loves to perform, craft, read poetry, and work on her guitar skills. She hopes to use her degrees one day as a coordinator for a theatre. Appalachian was not only a great fit for her degree programs, but also a perfect mix of a larger school with a small community atmosphere. Watauga Residential College as also increased her sense of community by making her feel like she is part of something bigger than herself. "Community has always been important to me," says Preston, "and I find that in eating, learning, and living within the same group builds common ground. I love getting to hang out with people from my hall in one classroom late at night, then wake up and discuss poetry in that same classroom. The community dynamic at Watauga is undeniable."